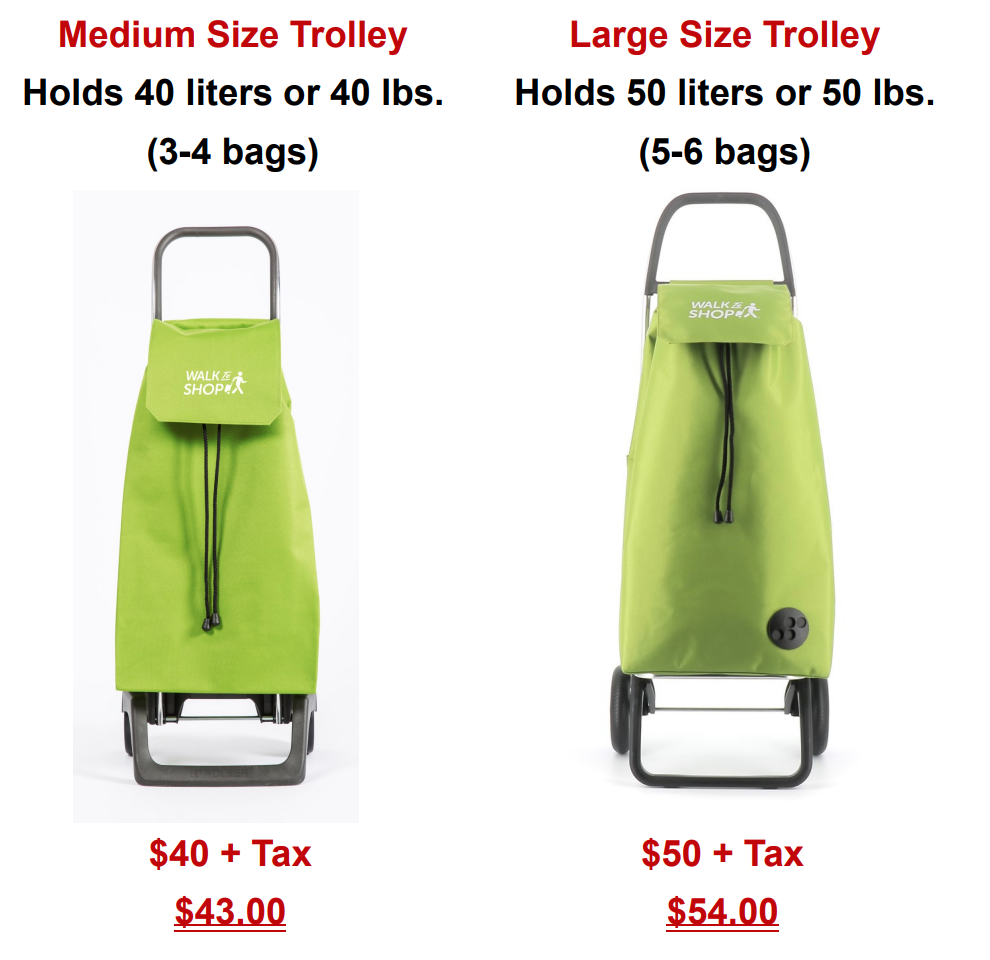 Discover the easy way to carry your groceries! Our stylish shopping trolley, priced affordably, is a safe and easy way to shop and carry things.
Consider walking more often using your feet and a trolley instead of a car to shop.
Benefits of choosing to walk:
Better physical fitness
Fewer health issues
More time to yourself
Increased mental wellbeing
Lower stress levels
Save money
Transportation independence
Making your community more vibrant
Cleaner environment
While grocery shopping is a universal task, most people are in the habit of driving to the grocery store.
With the exception of a few Vermont communities, most people who live in a downtown or village, live within 1,500 steps or a short 15-minute walk of a market.
An estimated 10 billion miles are driven each year in America for car trips less than a mile, according to EPA in 2019. Choosing to walk more often will help reverse this problem.
Events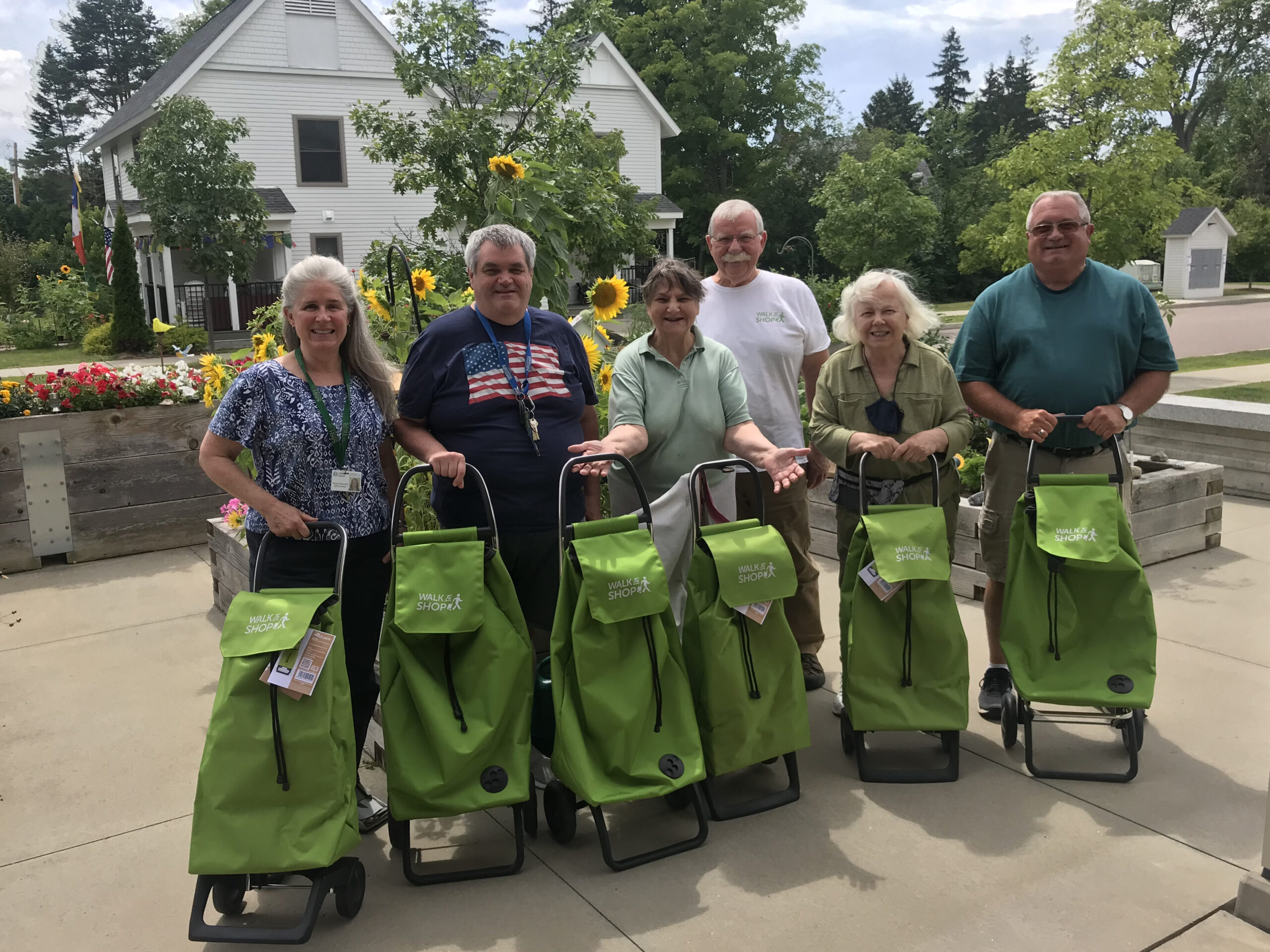 Walk to Shop is expanding to other parts of Vermont. Contact us if you'd like a presentation in your community.
Below is a calendar of demonstrations and presentations scheduled to educate residents, students, seniors, New Americans and all Vermonters.
Check back often as more events are added. Find us at the Burlington Farmer's Market, Healthy Living, Dorset Street, So. Burlington and the Winooski Farmers Market to name a few.
November / December
DEMOS, EVENTS & PRESENTATIONS
November
19 — 11 – 3 pm –Affordable Energy Resource Fair: Ask Us Anything!
LISTEN Community Dinner Hall, 42 Maple Street, White River Jct., VT )See Vital Communities exhibit table to learn more about how to get a trolley.

December
8 — 7 pm — The Street Project: The Fight to Make Our Streets Safer, Old Spokes Home, 331 No. Winooski Avenue, Burlington, VT
10 — 11 – 2 pm — Burlington Farmers Market
10 — 9 – 12 pm. — 15th Annual Vermont Energy & Climate Action Network Virtual Conference Stay tuned for details on sustainable transportation.
12-15 — 12 – 1:30 p.m. — Vermont Energy & Climate Action Network Workshop Series Details coming soon.
17 — 11 – 2 pm. — Burlington Farmers Market
How to Get Your Trolley
Trolleys can be purchase at the above scheduled events or by contacting a project coordinator below by email or phone.
Decide which size is right for you? They are a great value. Less than one-half retail price due to generous grants from Chittenden County Regional Planning Commission and Go! Vermont Mobility Innovation Transportation.
Get your Medium $40, and Large $50, plus tax. Both sizes are in stock.
The medium size with a 40 pound capacity is good for single or smaller families. The larger capacity trolley carries 50 pounds, ideal for families.
If you miss us and still want a trolley, contact Stu or Phil at the numbers below.
Project Team
Stuart Lindsay, stu@netzerovt.org, (802) 862-2980
Phil Hammerslough, phil@netzerovt.org, (802) 233-9143
Deb Sachs, deb@netzerovt.org, (802) 238-9807
Many thanks to Peggy O'Neill-Vivanco and Maisie Melican of the Vermont Clean Cities Coalition, housed at the UVM Transportation Research Center, for their continued support and role in advancing this project.
Activities
Walk to Shop coordinators are ready to engage Vermonters at upcoming pop-up events hosted by local markets, community Farmers Markets and partner events. You'll find us demonstrating the trolley, its features and walking routes and market locations shown on resource maps.
Look for our notices on Front Porch Forum and Facebook posts and our events calendar. These pop-up events are ideal to learn about the benefits and incentives to walk to shop.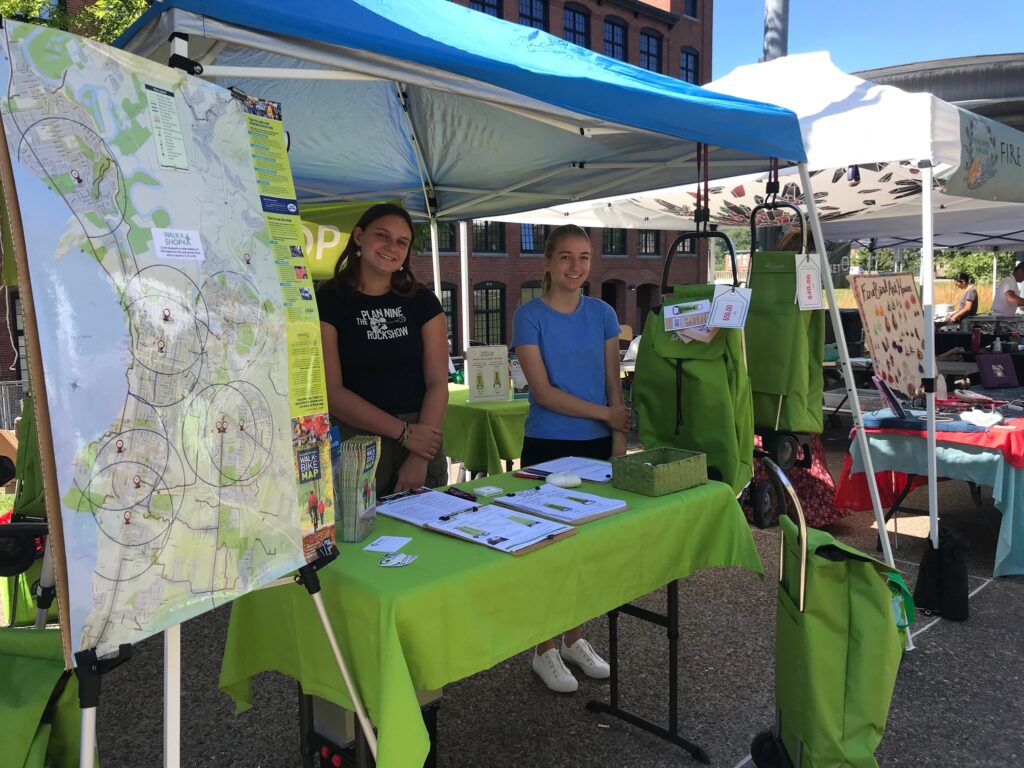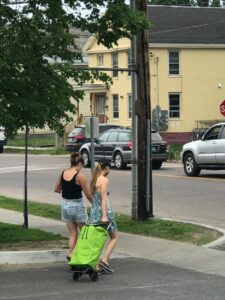 Working Together to Improve Access
For some Vermonters, the only way to get groceries is to walk. Net Zero Vermont is collaborating with Vermont Clean Cities Coalition at the UVM Transportation Research Center, to elevate walking for purpose and to improve access to food and everyday chores like laundry.
The Walk to Shop team is available for consultations.
Vermont Clean Cities Coalition staff are providing technical assistance, survey development, equity education, outreach and community engagement with community leaders and decision-makers.
Northern Tier Health Center (NOTCH), Vital Communities, Tri-Valley Transit, AALV, Cathedral Square SASH Coordinators, AARP-VT, are advancing Walk to Shop to their communities.
AALV appreciates the trolley as it helps its community to access neighborhood markets and services. We continue to collaborate with AALV staff, to advocate for sustainable transportation in small group demonstrations of the trolley, socials and listening sessions. AALV staff continue to distribute dozens more trolleys to interested clients who have limited transportation access to the store and laundromats.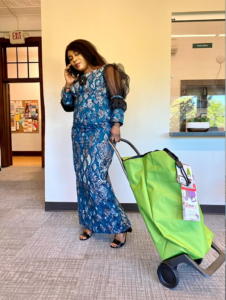 There are many reasons Walk to Shop is motivating advocates and Vermonters. The trolley enables a more active lifestyle. This is a tool to have fun practicing a low carbon lifestyle.
The stylish, lightweight and maneuverable trolley makes it safer and easier to shop, do laundry, picnic and garden.
For some, this is a good opportunity to alter a lifelong car habit. Participating is a great way to save money, improve health, enjoy incentives, encouragement, and feel support. More than 200 shopping trolleys are rolling on the streets of greater Burlington.
We appreciate feedback, positive and critical. Be sure to tell us about your experience. Your input is important as we listen and learn to improve. We look forward to sharing lessons learned, as more and more villages and towns adopt Walk to Shop across Vermont.
Partners Making A Difference
Community partners: AALV, NOTCH, Go! Vermont, Chittenden County Regional Planning Commission, Rutland Regional Planning Commission, Come Alive Outside, Tri-Valley Transit, Old Spokes Home, Green Mountain Transit, GMT's JEDI committee, AARP-VT, Burlington Electric Department and others continue to play a vital roll, from spreading the word to increasing awareness, building capacity, offering sponsorships and celebrating our community of walkers.
Walk to Shop wouldn't be where it is today without their help. We're thankful for their guidance, and in listening, learning and engaging diverse and underserved populations of greater Burlington, VT. With their help, we are proud to continue looking for ways to mitigate the systemic inequities of our neighbors.
Many thanks to Chittenden Country Regional Planning Commission and Go! Vermont are providing critical resources and seed funding to advance this project. Northern Tier Center for Health, Old Spokes Home, AALV, and GMT, specifically, are collaborating with Net Zero Vermont staff coordinators to develop and design marketing and communications strategies that effectively meet people where they are at; to attract and engage interested participants to learn about the practice of walking for transportation, how to use the trolleys and to report back their experiences.
Happy Trolley Users
Last March, more than 20 Congolese women participated in a special event including tea, dinner and trolleys. The women, including some from three generations shared and learned about shopping with a trolley as part of a demonstration sponsored by Go! Vermont.
Many thanks to the staff, Irene Webster and Malyun Ali, for interpreting, each women engaged in learning more about ways to access groceries and services including the laundromat. Walk to Shop coordinators demonstrated how to use their new trolley. Twenty-eight women now enjoy their trolley thanks to VTrans MTI grant, Net Zero Vermont and AALV.
Many thanks to AALV for sponsoring this event; and to Kelly Duggan of Old Spokes Home for sharing information on how to get discounted bicycles and Bryan Davis, who is collecting input on active transportation in Chittenden County.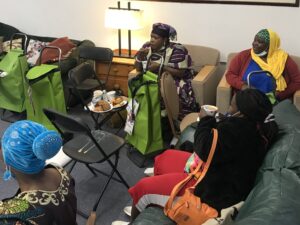 Visit us often for more news, dates and locations of upcoming demonstrations. If you are interested in hosting an event, please let us know at info@netzerovt.org.
Thank you for your help. Spread the word and encourage your friends and others to walk to shop more often, too.
Supporting Community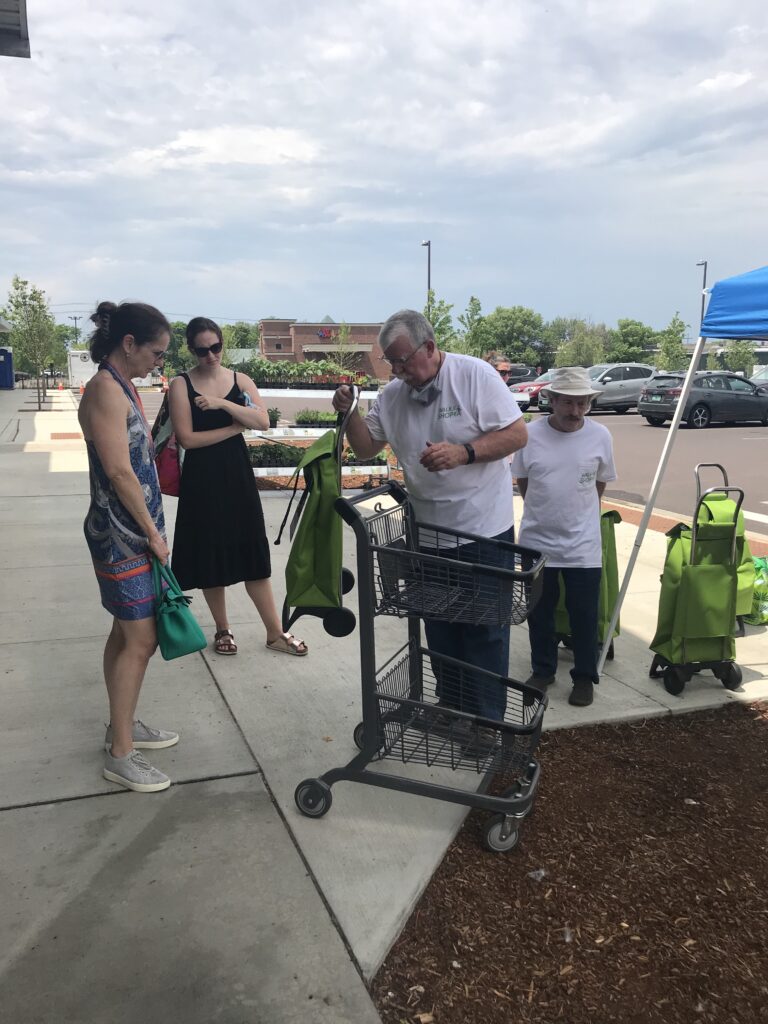 Walk to Shop's mission is to encourage more people to walk for purpose and to enjoy the many benefits of active mobility.
Our shared commitment is to develop transparent and transferable programming that improves transportation access, mobility independence and food security. Anyone who wants a trolley is afforded access regardless of financial ability.
Consider donating to Walk to Shop to help a neighbor and household get a trolley.
Every donation of $50 buys a trolley for a neighbor in need.
Consider becoming a project sponsor.
Your tax deductible donation to Net Zero Vermont, Inc. can be made here. Contact deb@netzerovt.org on ways to donate. Make requests for a demo or trolley by phone or email to Stu or Phil.
In the News
Can Dubliners Do Their Big Shops by Foot Instead of by Car?
How a trip to the Grocery Store can be a tool for Sustainability
Vermont Program Encourages Walking for Grocery Trips
Walk to Shop BED 2030 Podcast Interview
State-funded campaign offers Vermonters an easier walk to the grocery store June 3, 2021 Joel Banner Baird, Burlington Free Press
New Center Will Make City Walkable, 7-22-2021 The Other Paper
This active mobility, equity and food security project is made possible with seed funding from the Chittenden County Regional Planning Commission and Go! Vermont and project sponsors.
Many thanks to project partners: Vermont Clean Cities Coalition and to project sponsors: Burlington Farmers Market, AllEarth Renewables, Burlington Electric Department and others.
This project was piloted in 2021 with seed funding from Go! Vermont's 2020 Mobility & Transportation Innovation (MTI) grant, VT Agency of Transportation and EcoStrategies, LLC.
Contact us about becoming a corporate sponsor.
Learn more about how you can contribute by contacting deb@netzerovt.org or 802-238-9807.