Grocery shopping is a task that is universal and for about 90% who live in the Queen City, live within a mere 1500 steps or short 15-minute walk of a market. Like most in the U.S. we are in the habit of driving. In fact, the US EPA estimates that about 10 billion miles are driven each year in the U.S. for trips of less than one mile (EPA, 2019). This initiative is working to reverse this problem.
Walk to Shop is a low cost, and easy urban solution. It encourages more Vermonters to walk more often by using their feet instead of a car to shop.
The benefits of walking are established; from improving health and the environment, to lowering transportation costs. Yet more people can choose to walk versus drive their car and we're growing public awareness.
Summer Roll-out
Over the summer, Walk to Shop coordinators engaged hundreds of Vermonters, demonstrating the trolley and walking resource maps at convenient market locations. These pop-up events, advertised in advance on FB and Front Porch Forum, were ideal to help inform, educate, encourage and incentivize Vermonters to walk to shop.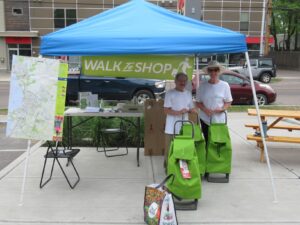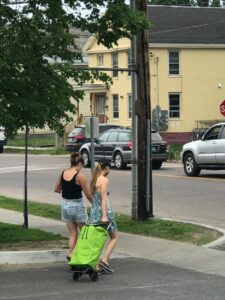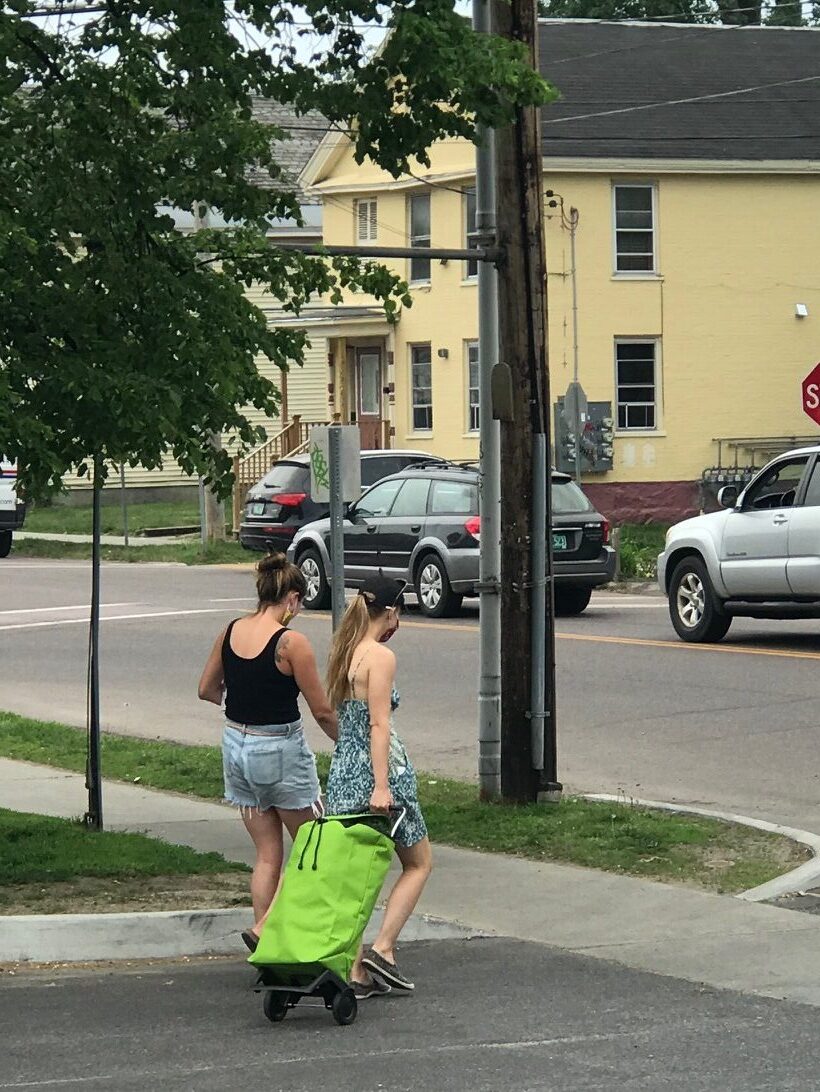 Walk to Shop team offered coaching and support to interested people. Project partners AARP, AALV, Cathedral Square and the owners of local markets/grocery stores including Healthy Living in South Burlington and Williston have been helpful Walk to Shoppers are choosing to walk.
Working Together to Improve Access
AALV staff are working hard for their clients and community. The trolley is viewed as a tool to help diverse populations access neighborhood markets. Following planning meetings with AALV staff, a Zoom and small group demonstration of the trolley, seven trolleys were delivered to AALV offices late this summer. AALV staff are distributing them to interested clients who have limited transportation access to the store.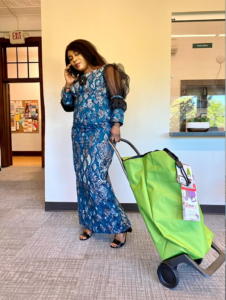 Walk to Shop continues to consult with equity staff in Burlington and Winooski to learn more about community and individual needs.
Some trolley owners indicate that they are seeking a more active lifestyle. They appreciate the program and agree it is as an ideal time to advance a low carbon, fun and practical walking project that celebrates walkers offering a spiffy lightweight and maneuverable trolley that makes it easy to shop, do laundry, picnic or community garden.
For some, this is a good opportunity to alter a lifelong car habit. Participating is a great way to save money and improve health, enjoy incentives, encouragement, support. Participants report that the colorful trolley is fun and enjoyable to use!
Walk to Shop coordinators have placed (in use) about 125 shopping trolleys throughout greater Burlington. We're now following up with a paper/ online survey of trolley owners, to listen and learn about their experiences. Initial feedback is positive among those that have responded to the survey. We look forward to sharing lessons learned, as more and more villages and towns express interest across Vermont.
Partners Making A Difference
Community partners: AALV, Old Spokes Home, Green Mountain Transit, GMT's JEDI committee, AARP, Go! Vermont and others continue to play a vital roll, from spreading the word to increasing awareness, building capacity, and celebrating our community of walkers.
Walk to Shop wouldn't be where it is today without their help. We're thankful for their guidance, and in listening, learning and engaging diverse and underserved populations of greater Burlington, VT. With their help, we are proud to continue looking for ways to mitigate the systemic inequities of our neighbors.
Old Spokes Home, AALV and GMT, specifically, are collaborating with Net Zero Vermont staff coordinators to develop and design marketing and communications strategies that effectively meet people where they are at; to attract and engage interested participants to learn about the practice of walking for transportation, how to use the trolleys and to report back their experiences.
Events & Calendar
The next Walk to Shop demonstration will be June 11 at the Burlington Farmer's Market!
On Friday, November 19th, more than 20 Congolese women participated in a special event including tea, snacks and trolleys. The women, including some from three generations shared and learned about shopping with a trolley as part of a demonstration sponsored by Go! Vermont.
Many thanks to the staff, Irene Webster and Malyun Ali, for interpreting, each women engaged in learning more about ways to access groceries and services including the laundromat. Walk to Shop coordinators demonstrated how to use their new trolley. Twenty-eight women now enjoy their trolley thanks to VTrans MTI grant, Net Zero Vermont and AALV.
Many thanks to AALV for sponsoring this event; and to Kelly Duggan of Old Spokes Home for sharing information on how to get discounted bicycles.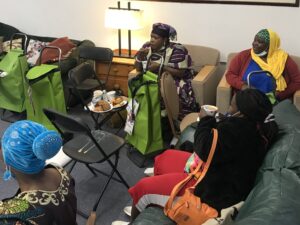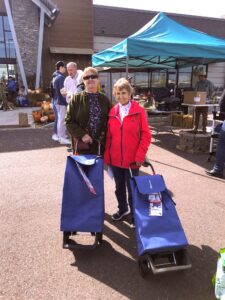 Big thanks to Healthy Living, Jake's One Market, and Burlington Farmers Market for hosting Walk to Shop demonstration events last June – August.
Stay tuned for specific dates and locations of upcoming demonstrations. If you are interested in hosting an event, please let us know at info@netzerovt.org.
Thank you for your help. Spread the word and encourage your friends and others to walk to shop more often, too.
How to get your trolley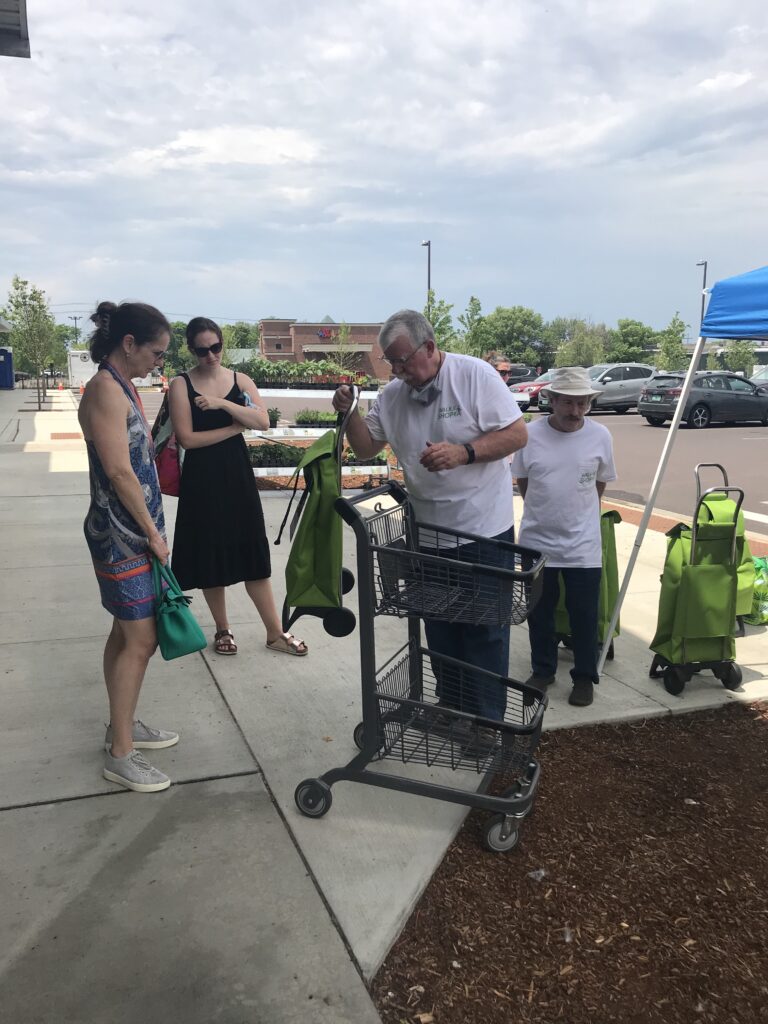 BTV Pilot: Rolser model trolley
Visit the Burlington Farmer's Market June 11th for the next Walk to Shop Demonstration Event!
The last Walk to Shop demonstration at Healthy Living in Williston was a big success. Folks were lined up at 11:00 a.m. to not miss out on securing a trolley.
The good news is that we still have a supply of trolleys available at our warehouse and we've placed another order. If you missed us and still want to participate, contact Stu or Phil at the numbers below.
Yes, you can participate in this exciting project and learn more how to purchase a trolley at a reduced cost of $35.00, contact Project Coordinators:
Stuart Lindsay, stu@netzerovt.org, (802) 862-2980
Phil Hammerslough, phil@netzerovt.org, (802) 233-9143
*Reduced rates available for income sensitive individuals and households, available upon request by emailing Stu or Phil.
In the News
State-funded campaign offers Vermonters an easier walk to the grocery store June 3, 2021 Joel Banner Baird, Burlington Free Press
New Center Will Make City Walkable in 7-22-2021, The Other Paper
This project is made possible with seed funding from the 2020 Mobility & Transportation Innovation (MTI) grant through the VT Agency of Transportation and EcoStrategies, LLC and others including: AARP.
Learn how you can contribute by contacting deb@netzerovt.org or 802-238-9807.