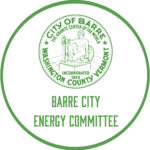 Barre City Energy Committee developed a roadmap of strategies to better engage residents about ways to advance the City's 2020 clean energy goal. The City's adopted goal is to reduce energy consumption and greenhouse gas emissions by 40% of 1990 levels, by 2030.
Sixty percent of the total energy consumed in the City is for thermal space heating. Consequently, BCEC made it a focus to improve space heating comfort and affordability to modern electric space heating and cooling units replacing fossil fuel systems. The source of clean electricity, ideally would be from Vermont from solar, wind, hydro, and geothermal renewable electricity. The BCEC is developing a vision to help accelerate the space heating and cooling sector combining technology and weatherization.
From Net Zero Vermont's experience, including the successful public engagement of the Montpelier 2030 Design Competition, BCEC explored and advanced an array of ideas and strategies including sharing the news about energy incentives and local financing.
Selected low carbon solutions and priorities include on-demand micro-transit, cold climate heat pumps, deep weatherization and financing options. The BCEC is proud to be partnering with groups with shared interest to help accelerate its march to 2030 energy and carbon levels (40% lower than today).
Several community and business leaders are notably interested in partnering to advance fun campaigns and initiatives to improve housing stock and expanded living options and to help inform and incentivize homeowners and businesses to take action to reduce fossil fuel consumption.
Recent BCEC activities include:
1) a 2020 community survey resulting in 435 unique responses offering a good look at resident attitudes and opinions on several energy saving measures, incentives and renewable energy options;
2) a 10-month FB and FPF social media campaign that featured helpful energy and transportation tips to save energy (i.e., specifically efficiency measures in the electricity, thermal and transportation sectors); and
3) partnering with key individuals and entities including: The Barre Partnership, City Planning, Mayor and Managers offices, Efficiency Vermont and several area business leaders.
In its work this summer, the Committee engaged landlords and property managers to identify and explore effective ways to weatherize the City's housing stock and to encourage property owners to participate in a campaign to 2,000 cold climate heat pumps by 2030, a key initiative to helping the City reverse and mitigate its high energy burden.
With two and half tanker trucks per day of fuel consumption, the City is examining the most effective and cost effective ways to meet its goal to reduce consumption by more than 2 million gallons of fuel per year.
For more information on Barre City Energy Committee, visit: https://www.barrecity.org/bcec/