We are thrilled that the Way to Go! Challenge was recognized as a 'Renewable Energy Innovator' by Renewable Energy Vermont (REV) at the REV2017 conference this month. Reducing carbon pollution from transportation sources is a key strategy for achieving our goals.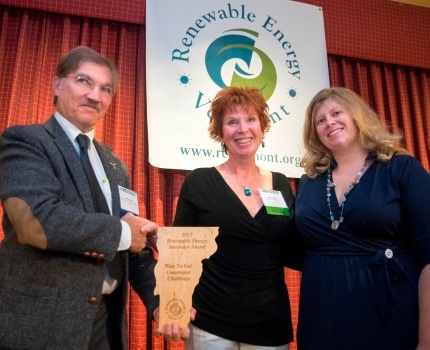 The Renewable Energy Innovation Award recognizes a project, company, organization, or individual contributing innovative, influential, and transformative efforts for implementing renewable energy and climate action in Vermont.
Way To Go! focuses on getting K–12 schools and businesses to cut climate pollution from transportation and daily commutes.  Using transportation options, other than driving solo, helps us reach our goal of reducing 1 million lbs of carbon pollution in Vermont. That means cleaner air, more time, and less money spent on gas for everyone. Learn more about Way to Go! here.
You can read more about the award in Vermont Business Magazine, among others.