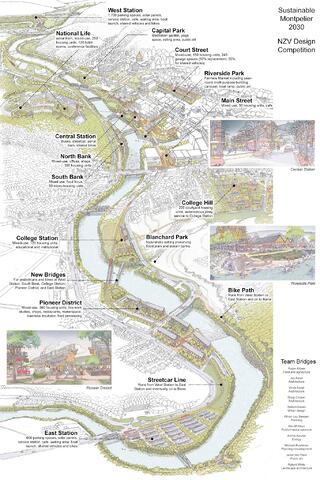 A discussion hosted by the Gund Institute for Environment at UVM and Net Zero Vermont will explore sustainable urban planning, design, energy and public engagement to advance Montpelier's efforts to go "Net Zero" by 2030, and to forge closer ties between regional stakeholders. 
The winners of the Net Zero Vermont's Montpelier 2030 Design Competition are working to transform the State's Capital District into a sustainable model for smart growth.
Team Bridges, an interdisciplinary collaboration of eleven professionals from throughout Vermont as well as Boston, Brooklyn, and Pittsburgh, will present their vision for a Capital Corridor linking five towns – Montpelier, Waterbury, Middlesex, Berlin and Barre City. Their design envisions greater public transportation and green infrastructure, more people, and improved quality of life.
Join the presentation at UVM Davis Center September 27, at noon.