Beaming with pride, as she should, South Burlington City Councilor Emery is thrilled about the new developments happening in City Center. She appreciates the hard work of the volunteer boards, committees and staff who did an amazing job to help make Market Street safe (re: traffic and emergency vehicles), inclusionary of the people who live there and sensitive to the natural environment. And Councilor Emery loves to Walk to Shop with her new trolley. It's a great way to celebrate the hard work of all who are making South Burlington a more walkable City.
Residents and visitors will have access to all that the city provides in terms of quality of life: including housing, the park, the restored natural area and brook (even the storm water ponds are beautiful), and the new library/municipal building. The grand opening celebrating the many new improvements will be on Friday, July 23 at 4:30 p.m. While it's been a long time coming, the new development is fitting of the City's vision, too, bring services and cultural resources together.
The housing is close to jobs and public transit, and the amenities make it a great place to walk and bike in City Center. "The many incentives baked into the design, make the City's center sustainable: meaning environmentally sensitive, to human scale, and affordable. To me, these are the key ingredients to sustainability".
City Center is also doing a lot to enhance the existing neighborhoods (Iby and Barrett Streets and even Myers Court — where I live), bringing people together and making it more desirable to walk and bike from existing neighborhoods including better access to the park, businesses and services there. Once Garden Street is complete, it will be even easier to access more businesses and services.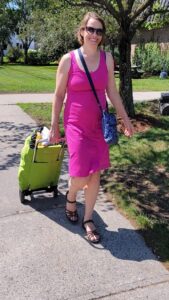 City Councilor Meaghan Emery enjoys walking home from Price Chopper with a full trolley.
Already, with my trolley, I can walk to do some serious grocery shopping at Price Chopper or the Gagan Asian Grocery Store on Williston Rd. I can bring back so much more than before (up to 40+ pounds) without use of my car.
Once Garden Street is complete, I will be able to easily access Healthy Living and Trader Joe's, too. I imagine that we'll see increasingly more people walking. I regularly see people walking on Market Street now. And rather than cut off circulation in our hands from carrying bags or overload a back pack, we now have the option to pull a trolley — like a suitcase at the airport — and take in the beauty of Market Street. Even transporting the food for a group picnic by the geese off of Market Street, these trolleys are really practical.
To learn more and to get a trolley, visit netzerovt.org/walk-to-shop/ or contact Stu Lindsay at stu@netzerovt.org or Phil Hammerslough at phil@netzerovt.org.