Sustainable Montpelier 2030 Design Competition Guidance Brief
9/21/16 Guidance Brief, Developed by NZV Staff for Design Teams
THE PRIZE
We seek the ideas and creativity of designers and architects to help accelerate a sustainable future in the face of climate change. This includes engaging the community to ensure the city of Montpelier, Vermont remains a desirable, low-carbon place to live.
We're inviting designers and architects to help the City conceptualize a small-city design that considers integrated systems thinking, to suggest land use alternatives to the land area currently devoted to back lot parking. We are offering a prize of $10,000 for the design that excites the most public enthusiasm. An expert jury will select the final design teams (i.e., the top three to five submissions) and invite them to participate in the next stage.
The winning design will consider an integrated transportation system that improves efficiency, is reliable, affordable and convenient. Suggested concepts will offer spaces where people will want to live – a small city that is fun and affordable to live in. For the purposes of this competition, solving this problem should not be seen as a technical exercise, assessing current zoning bylaws or state rules. The team is not expected to develop scaled site plans and engineering details that are, "shovel ready"; rather, the proposed vision should be more general, imaginative and inviting.
THE DESIGN CHALLENGE
Montpelier has set a goal of becoming carbon-neutral ("net zero") by 2030. A net zero community uses as little carbon-based fuels as possible; supporting food systems, transportation, industry, space heating, and power. For Montpelier, reaching a goal of net-zero energy means reducing the city's overall energy consumption by 75%. This goal could be achieved with massive energy efficiency, conservation, and renewable energy development. The latter most certainly will require the City to import clean power.
To expand the density of building space, Montpelier will need a modernized transportation system including alternative means of travel, so that the vast areas of asphalt are no longer needed for cars. There are currently 6,500 cars registered in Montpelier; the goal is to lower this number to at least 2,500. For this to happen, we will need to replace automobiles with a robust transportation system that is convenient, affordable, reliable and fun.
We believe imaginative designers will help imagine more efficient land uses, make the city more competitive to rural sprawl, create new taxable property and do all this in a way that uses minimal carbon-based energy. The goal is to make this small, quaint New England city a more enjoyable place to live, work and play.
Based on this premise, the questions for design teams to consider are:
How can we transform the designated real estate into more attractive economic development?
What type of development would radically change the city's energy consumption profile?
What could be done with the current parking areas?
What community development projects could arise in the wake of a new vision?
How might Montpelier redirect its resources to advance low carbon options, while making the City more competitive and attractive?
THE STUDY AREA
While Net Zero Vermont is concerned about the city of Montpelier as a whole, this Design Competition is limited to the downtown area Montpelier business district (as summarized in more detail below and within the RFP online). The core of the problem area is illustrated in red, highlighting the non-street parking areas (refer to RFP appendices for red map of parking). Note: this is the amount of downtown Montpelier real estate devoted to parking vehicles. The bulk of this land is State of Vermont owned and a couple of parking lots are privately owned. Simply put, the most valuable and easily buildable land in the city is largely committed to parking. Aside from convenience to drivers, these parking areas offer little public benefit. Most people are unaware of the significant hidden costs of maintaining this parking (including toxic runoff, enforcement, maintenance and lost revenues).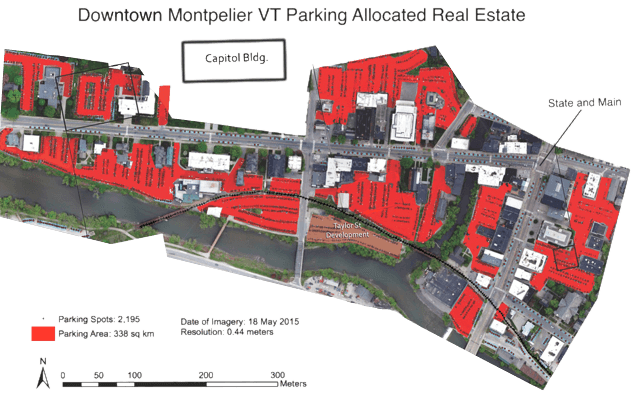 The design team should focus its project design work on downtown (mainly CB-1 and CIV districts, and for the most part, exclude CB-2, HRV and Stone Cutters Way as presented in the zoning district map below).
We encourage teams to conceptualize higher density and shared mobility options for young and old inhabitants, including affordable, energy-efficient housing, mixed uses for buildings, an inter-connected transportation system, and recreation spaces.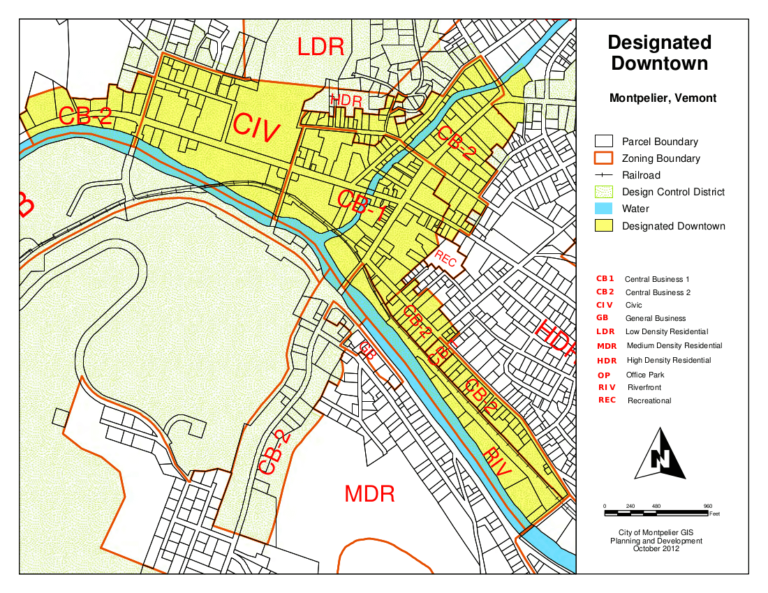 TRANSITIONING TO NET ZERO ENERGY BY 2030 (ESTIMATED TOTAL ENERGY DEMAND IN ELECTRICITY UNITS)
The City consumes an estimated 100 MWa (MW average) of total energy in electricity units (i.e., electricity, space heating, and transportation). To meet its 2030 goal to be net zero energy, the first step is to lower energy consumption by approximately 75%. Energy consumption can be saved in at least three ways: 1) energy efficiency, 2) conservation, and 3) weaning our dependence on fossil fuels.
Assuming the City is on the path to reducing consumption by 75%, it will also need to be running at 25 MWa* of renewable energy. The breakdown of sources could be derived from the following installed* capacity: 40% Solar (65 MW)*, 40% Wind (30 MW) and 20% Biomass (5 MW). Note that a small percent (1 MW) might be derived from roof mounted solar, however, the majority will need to be imported. Therefore, all of the City's future energy, aside from significant conservation and efficiency, could be sourced by renewables.
The above gross estimates were developed by NZV based on current statewide energy demand, existing data and review of previous studies. A reminder to design teams: remain big picture to the extent possible, designers are not expected to invest time in solving Vermont's future energy goals.
With Montpelier's net zero energy goal, the energy intensity of City will need to drop to one-quarter of its present consumption levels. With no decrease in energy usage, Montpelier would need an estimated four times the renewable capacity for heating, cooling, and transportation.
Megawatt Average (MWa): An average megawatt is the amount of electricity produced by the continuous production of one megawatt over a period of one year. This term is sometimes called average annual megawatt, defining power production in megawatt increments over time.
Capacity Factor: Any electrical generation technology has a specific capacity factor: (I.e., how much time it runs at full capacity). Following is an approximate average capacity factor for each renewable source: Solar ~.15; Wind ~.30; Biomass~.30; Hydro (Run of the River)~.40.
Megawatt (MW): A unit of power: one million watts. A typical large electrical generating plant can produce a thousand megawatts of electricity.
Note: The above energy estimates are based on the current population rates. A population growth rate of one percent, (compounded), means a 20 percent increase in the population in 2030. Should the growth rate increase at one percent, the City would then need to expand its renewable energy by at least 20 percent more (over the above estimates).
NZV is making a broad assumption that, given the opportunity, most people would exchange a rural-suburban lifestyle for affordable downtown housing and living with easy access to shopping, restaurants, entertainment, jobs and civic activities.
THE COMPETITION PROCESS
The process includes three phases. The purpose of the first phase is to capture the public's imagination. The second phase advances 3-5 teams to continue forward to refine their concepts.
Phase 1 [Due: September 30, 2016 at 5:00 p.m. EST]: Drop-off submissions accepted Net Zero Vermont office: located at 15 State Street, Third Floor, Montpelier. Alternatively: Submission packages can be sent by mail or hand-delivered to Capital Copy, 32 Main St, Montpelier, VT 05602 by Phone: (802) 223-0500.
Initial design submissions will include two levels of public review: 1) on public display, at 62 Main Street, (former "One More Time" store) October 3-5, 2016, 10 a.m. – 7:00 p.m. all three days. Packages to include two boards (two sizes 2 x 2' or 2' x 3' accepted), plus one 8 ½ x 11" board mounted description per team.
A professional design review panel (Jury) will assess the concepts on the merits of potential carbon savings, affordability and development potential. The panel will weigh the public input and pure local appeal of the designs in accordance w/selected sustainability criteria. The Jury will assess development potential and whether the concepts can actually be developed, efficiently. Phase 1 will culminate in the selection of 3-5 finalists, who will be invited to provide more detailed concepts for final review and selection. Phase II submissions are due December 2, 2016, 5:00 p.m. close of business.
Phase 2 [December 2, 2016 at 5:00 pm. EST]: The more refined/detailed team concepts will be submitted for the final public review. This will be a more formal process including presentations to the public and decision-makers. The purpose is to excite the citizenry and encourage build-out of the model sustainable City. Proposed designs should be scalable to other spaces in the city.
Phase 3 [December 12, 2016]: Final Award. An expert panel comprised of professional architects, engineers, planners, and developers will choose the finalist to receive the $10,000 prize. NZV intends to promote the winning design for future net zero development and as a template for other cities and towns beyond.