Vermont's Seven Days newspaper reports on aspirations to bring commuter rail to Vermont. Mentioned in the story is the support for more passenger rail expressed during the SUSTAINABLE MONTPELIER 2030 Design Competition.
"Among the ideas of first-place winner 'Team Bridges' was to connect a 20-mile corridor of five municipalities — Waterbury, Middlesex, Montpelier, Berlin and Barre City — via rail" reports Ken Picard, author of the story.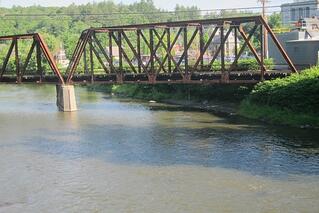 Last week, Montpelier Mayor John Hollar announced plans to finally break ground on a long-envisioned downtown multimodal transit center at 1 Taylor Street behind Capitol Plaza. Though plans currently include a bus station and bike path, not a train station, Hollar pointed out that tracks already run adjacent to the new center.
Read the full article at https://www.sevendaysvt.com/