TEAM BRIDGES WINS SUSTAINABLE MONTPELIER 2030 DESIGN COMPETITION.
We announced the winning design team, "Team Bridges," a collaboration of 12 professionals from 10 companies and organizations. The announcement was made at a Statehouse news conference by Net Zero Vermont Co-CEOs Deb Sachs and Dan Jones.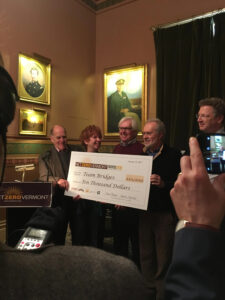 About Team Bridges
Team Bridges is a purposeful blend of 12 professionals from 10 companies and organizations:
Roger Allbee, Former Secretary. Vermont Agency of Agriculture, Food and Markets, Montpelier, VT
Jay Ancel, Partner, Black River Design Architects, Montpelier, VT
Vincent Appel, Of Possible Architectures (OPA). Brooklyn, New York
Douglas Cooper, Andrew Mellon Professor, Carnegie Mellon University
Stefani Danes, Architect and Adjunct Professor, School of Architecture, Research Fellow,
Remaking Cities Institute, Carnegie Mellon University
Archie Kasnet, Altenex, Boston, Massachusetts
Ethan Lay-Sleeper, Sasaki, Watertown, MA
Ken Millman. Sp!ke Advertising, Alburgh, VT
Michael Rushman, Land Strategies, Cabot, Vermont (Team Bridges contact.)
Janet Van Fleet, Studio Place Arts (SPA), Barre, Vermont
Robert White, GPI / Greenman-Pedersen, Inc., Portsmouth, NH
The winning design team is the result of a selection process that started in October with votes by more than 650 Montpelier residents, workers, and visitors at a pop-up Main Street gallery and online, along with a review by a technical committee to select five finalists. In January, live presentations by the five finalists were followed by a second round of voting with nearly seven hundred ballots and extended comments submitted. The $10,000 winner's prize in the Sustainable Montpelier 2030 Design Competition is sponsored by NetZero Vermont with seed funding from five sponsors: AllEarth Renewables, Ben & Jerry's, Vermont Creamery, National Life Group, and VSECU.
See Team Bridges winning design entry here.